The Olang Monica is a waterproof winter boot designed to provide superior grip on snow and ice with its OC Anti-Slip Outsole system. Zippers stitched to the inner and outer part of the boot allow for a large opening that makes slipping on this boot a breeze. The Olang footwear collections come equipped with a number of features, such as...
WINTHERM® Membrane:
This membrane prevents heat dispersion. The membrane guarantees an extra 50% of thermal insulation. It is breathable and includes a silver-salts permanent antibacterial treatment, which is very thin and climate controlling. It also assists in preventing odors.
OLANTEX® or BREATHE.TEX® Membrane:
The tex membranes are waterproof membranes available in several models of both the winter and trekking/outdoor collections. The material of the membrane grants a good water resistance and breathability, as well as provides remarkable abrasion resistance.
HYDRO LEATHER:
Leathers used in the construction of Olang boots are tanned using sustainable dyes that reduce the boots' environmental impact. The leathers are then treated for water repellency. During this process the leathers receive a particular finish that resists water penetration and absorption.
ORIGINAL SHEARLING®:
Looking for the perfect combination of comfort and thermal insulation? Look no further than the double-faced authentic shearling from sheep of the Scottish Highlands.
ORIGINAL SHEARLING® Innersoles:
The innersoles come combined with a multilayer aluminum film. This keeps the feet warm and dry, while isolating the foot from outdoor temperatures and providing maximum comfort.
ISOWARM® Innersoles:
Alternatively some boots and shoes are equipped with a thermoformed soft fleece innersole. This also includes an aluminum film, to keep the foot warm, dry and isolated from freezing temperatures.
The OC Anti-Slip Outsole System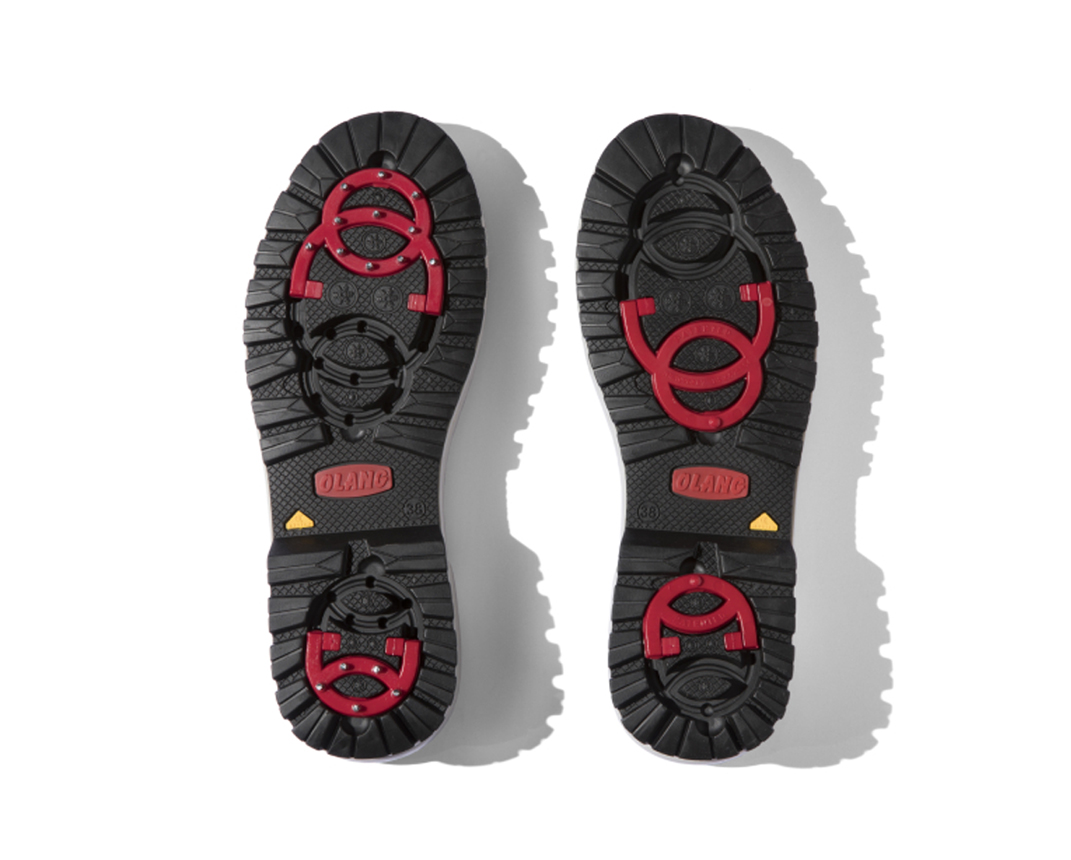 The Olang Anti-Slip System increases stability and grip on icy and snowy surfaces. The outer sole is equipped with on-the-go spikes. Flip them forward, get grip. Flip them backward, remove grip. When engaged the spikes make walking on icy and snowy surfaces safe, without diminishing comfort. When the spikes are retracted the sole prevents damage to and enables walking on even the most delicate surfaces. The OC System is hidden away in the groove of the sole when disengaged. The styles with the OC Sytem Sole come equipped with an OC SYSTEM KEY. The key makes it easier to switch the position to on and off.
---